Parent Observations
Over the years we have asked a number of our parents to provide a brief overview of their experiences at Sourdough. Here is a brief sampling of some of their comments.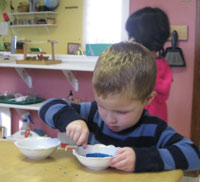 "I felt so honored for my little girl to be enrolled in Sourdough Montessori for almost 3 years, including Kindergarten. My first sense of Sourdough was one of peace and calmness about the school and a sincere, caring attitude of the entire staff. When I walked through the door of Sourdough every morning at drop off time, I was mesmerized by the aroma of freshly baked pastries for the kids, the playing of calm music, the daily greeting by a teacher kneeling down to the child's eye level to welcome them for the day, the peaceful tone of the teacher's voices and body language and the pure interest that every teacher had for each child, which was all truly amazing. I appreciate the focus on the Montessori way of learning that Sourdough embraces for every child. Each teacher found sincere importance in the relationship they had with each child, knowing them personally, academically, and artistically. As I peruse the Sourdough report cards for my child, I am in awe and appreciation of the level of detail and categories on these documents and the extra effort for personal messages that showed they cared and knew your child. I will be forever grateful for Sourdough Montessori's wonderful experience for my child. For me, it will always be a gift for my daughter throughout her academic career." -Jeri Yinger
"We have been so lucky to be a Sourdough Family since June 2006. Before coming here, I checked out almost every Montessori School in Bozeman, and Sourdough was best by far. The huge playground with giant trees was impressive and could clearly support all kinds of creative and organized play. Montessori lessons are fairly standard, but at Sourdough were well organized, yet the classrooms maintain an open feel that enables children to move about freely and always feel comfortable. Foremost, the teachers are truly happy working with kids. There has been some staff turnover, but each new teacher is a wonderful addition and many will be sorely missed. The teachers are gentle, loving, flexible, caring, and never stern. I believe that this supportive and loving environment was very important in helping my shy, quiet, and frightened 3 year old blossom into a confident and happy first grader!"
-Jodi Hedges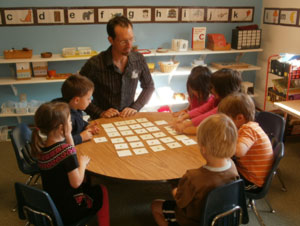 "When choosing a pre-school, our goal was to find a place where our children would feel welcome, comfortable, safe, respected, and be able to learn at their full potential. We needed a place that shared our moral compass and life style. Sourdough was a great environment for our children and our family. From the organized true Montessori interior to the spacious shaded backyard, from the healthy snacks to the talented staff,
the place is just great. I never heard a single teacher speak to a child with any frustration. As a parent, I appreciated that, and was awed by it.
Overall, we had a very positive experience with Sourdough. I highly recommend the school. The amazing staff of talented, dedicated teachers focuses on the children and their growth. The atmosphere was calm and inviting – you feel better for just having spent time there. Jay accommodated our family's needs and worked out a professional services trade to help with the tuition. Our whole family loved the school."
-Christine Riek


"Sourdough is a beautiful environment with dedicated teachers. It is a very enriching experience with art, music, and fun learning experiences for all children." -Eileen Ralicke

"In such a short amount of time, our son felt like he belonged here! The teachers, the other children, even the methods of learning and the materials he uses, all feel like "his." As parents, we appreciate so much the incredibly high value that Sourdough Montessori places on the uniqueness of each individual child and how they each learn, play, and socialize!"
-Kerry and Spencer Williams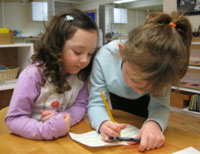 One of my favorite rituals of Sourdough is the birthday tradition of walking around the globe the number of times you are years old. This simple act has its feet in science and its head in spirit. Of course that is not what makes a school great, it is the people who provide the insight, care and passion for the students combined with the community that is formed around the teachers and students. Sourdough always incubated this and it is still present whenever we run into old classmates and their families. I'm certain that our daughters are better more understanding citizens of the world as a result of the care and nurturing they received at Sourdough Montessori. Thanks for getting us off to a great start! " -Bill & Suzie Rea
"We were absolutely thrilled to have given our children the opportunity to attend Sourdough Montessori. Our girls had an incredible experience – enjoying playing in the beautiful yard, learning life skills, and beginning to read and write in a safe, nurturing environment. Our family befriended the staff, and we still love to see them around town and catch up. Thanks to Sourdough Montessori, my children have had an easy and successful transition into elementary school."
-Dana & Erin Mahoney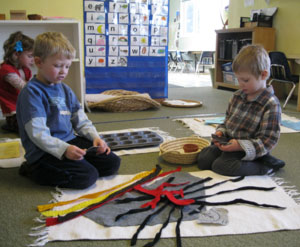 "We have been thrilled to send two children to Sourdough Montessori - and though they both have very different personalities, the teachers have created an environment where they can both be successful. The outdoor play-space is spectacular - and being outdoor enthusiasts ourselves, we are so happy that our children are given ample time during the day to play outside -including on the swings, with the bunnies, in the sandbox". -Hilary Klug
"I am so happy with Sourdough, what a great fit it has been for us. James (our son) is really thriving there, and it has been wonderful to see him open up and let his personality shine in such a place of comfort for him. I also appreciate how organized everything is, and how the teachers always communicate about how his day was. That is so important to parents!"
-Vanessa Beverly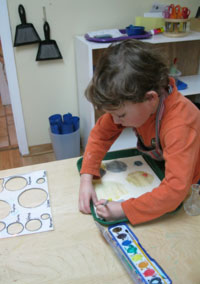 "I'm writing this so you can let anyone and everyone know how much we love Sourdough Montessori. Each of our three children attended Sourdough from ages 3-6 (they are now 7, 9 and 12 years old) and I have no doubt that the memories of their wonderful years at Sourdough will remain with them into adulthood. The warm, caring environment that allows exploration and learning at a pace that is individual for each child is so crucial in those early years. They gained confidence in the repetition and moved on when they were ready, with gentle guidance from the teachers. There are still sayings that we use in our house such as, "If all the friends can't play, no one can play," meaning that excluding others isn't acceptable. The learning about the importance of healthy snacks and knowledge of "growing foods" is something still applicable and we continue to appreciate. The many teachers have all been wonderful but each of our children has memories of a particular favorite one or two that really made their time at Sourdough special. We often run into teachers out and about around town and they always remember the kids' names and want to know what they are up to, further demonstrating that they love the children and are more than just teachers.
We honestly can't thank Sourdough enough for the great start our children received and we never hesitate to recommend it to anyone looking for a preschool/kindergarten home for their own children.
Thank you so much for everything!"
- Shaun J. Gillis
"I was a Sourdough parent for 8 years. I taught Montessori in Chicago in the 80's and I was so grateful to find this beautiful, caring school in Bozeman. My children loved everything about the school. They loved their teachers, the classroom activities and the amazing playground. They looked forward to school every day and the summer too!
My children are now in middle school and high school but they still have close friendships that they made at Sourdough Montessori. Thank you for helping to prepare my children for school and life". -Florence Guest
"Sourdough Montessori provided us with a sense of contentment knowing that our children were in the best place for both educational and social development. We found the teachers and staff to be warm, caring and nurturing. Our children have fond memories of their years at Sourdough Montessori. We miss those days wholeheartedly!"
-Mike, Lynette, Michala, and Gabriel Zambon